Rate this article and enter to win
Sure, working out is good for us, but what if we're just not in the mood? As in, totally not in the mood. Is there hope?
Yes. Research shows that even our most slothful selves can get active, stick with the program, and (shocker) enjoy it. The key is reframing how we think about physical activity. Fitness is usually sold to us as something that will help us live longer and reduce our risk of chronic disease. While this is true and great, that knowledge doesn't necessarily motivate us in the moment to do pushups instead of downing Doritos. These four approaches work better.
#1 Ask: What will it do for me right now?
Immediate benefits—like relaxation, joy, stress relief, and sharp thinking—are far more motivating than the distant prospect of better health, according to behavioral scientists.
Identify the immediate perks: a better mood, increased energy, a brainpower boost, stress relief, sharper focus, and positive feelings for yourself.
Play workout music: For a rapid attitude adjustment, try the latest trap beat.
"I know that even though I never want to start a workout, once I've finished I feel happy and empowered."
—Onyx B., undergraduate, Colorado College
"Realize life is short and you might as well spend it feeling good and alive."
—Ethan G., undergraduate, University of Maryland, Baltimore County
How & why to focus on the now
"Helping people identify the ways they feel better immediately is the true driver of our decision to be active," says Dr. Michelle Segar, director of the Sport, Health, and Activity Research and Policy Center at the University of Michigan. "Research shows that we are more motivated by rewards that we immediately experience than by ones we have to wait for in the future."
How you work it
"I'll remember the time I was in a dull meeting and had to run outside to grab something, then how much more alert I felt afterward."
—Jerome G., undergraduate, Rochester Institute of Technology, New York
"When I'm not in the mood to get active, I motivate myself by listening to workout music. I steadily start to get pumped up."
—Steven M., undergraduate, Michigan Technology University
"Doing cardio, I want to burn the frustration. I think about being in an action movie and I am the lead that needs to save the world from danger."
—Carla A., undergraduate, Bridgewater State University, Massachusetts
"Running is like therapy to me. I am able to clear my mind of negative thoughts and I also feel better when I done. I breathe more smoothly and am more relaxed."
—Jessica R., undergraduate, Illinois State University
Feel the rush of a YouTube dance workout
#2 Mind trick: "This is so not about fitness"
Some physical activities don't feel like exercise, with its clinical associations. In a recent survey by Student Health 101, many students described fitness as a mind game.
Lose the rules: "Toss out any rules you might have about how to exercise, because research shows you won't keep it up [if those rules don't reflect your feelings]," says Dr. Michelle Segar, author of No Sweat: How the Simple Science of Motivation Can Bring You a Lifetime of Fitness (Amacom, 2015).
Give yourself permission: Move in ways that feel good to you and work with your schedule. "If all you can fit in is an extra five minutes a day, make that your plan and go from there," says Dr. Segar.
"I trick myself into thinking I am just having fun. Definitely go on a walk through the woods, or four-wheeling, swimming, or even climbing trees!"
—Lexie G., undergraduate, University of Wisconsin-Plattville
"I just ride my bike as transportation. That way there is no choice. If you want to go somewhere, you have to be active."
—Jonathan K., undergraduate, Portland State University, Oregon
Why & how to make it about something else
"When someone hates exercise, I've found that they hate it most often because they are [participating] in activities they don't like, at higher intensities [than they like], or in places they don't like," says Dr. Segar. What works? Doing stuff you like, at a pace you like, in places you like.
How you work it
"Walking to a nice (and far away) park or waterfront to read."
—Elif Su C., undergraduate, Johns Hopkins University, Maryland
"Treat yourself to something special. Take a ride to the beach to watch the sunset. Take the kayak out somewhere you've never been to and experience something new. Maybe even catch a fish for dinner."
—Matthew C., undergraduate, Humboldt State University, California
"Sometimes I actively think about how much I don't want to go for a run while I put my body mindlessly through the actions of starting anyway. I let my mind think it's talked me out of it, but I keep putting on my shoes and shorts. I might even still be thinking about excuses when I take my first few steps into a warm-up jog, but by then it's too late and I've already started."
—Onyx B., undergraduate, Colorado College
"Something easy I will do to stop being lazy and sitting around is reorganizing my room or cleaning it. It gets me up and doing something."
—Undergraduate, name & college withheld
"This is going to sound very silly, but I wake up early every morning to just dance to remixes and rock. This gets my blood pumping."
—Karen G., undergraduate, Saint Joseph's College, Indiana
#3 Claim a tangible reward
Try associating fitness with a tangible reward. Again, this gets to those immediate benefits. If you're someone who is motivated to avoid penalties, use that too.
Set a goal and relish the reward: Maybe it's only at the gym that you can watch the next episode on Netflix. Maybe you get a smoothie afterwards.
Consider a commitment contract: "For example, you give money to a friend. If you hit your exercise target, you get the money back, but if you don't, your friend gets to keep it," says Dr. Fred Zimmerman, a professor in the Department of Health Policy and Management at the University of California, Los Angeles, who researches exercise behavior. "Or the money would be donated to the opposite political party than which you agree or a group you're not too fond of. This way, missing your goal is painful."
"I make it a rule that I can only watch a TV show if I'm working out. So if I want to know what's happening on Game of Thrones I have to be running."
—Andi L., undergraduate, University of Kansas
"Things that will get me outside start slow and result in physical activity as well as relaxation. I will get a big glass of iced tea and shoot horseshoes or play cornhole."
—Sterling R., undergraduate, Upper Iowa University
Why & how to claim your prize
StickK
This free goal-setting platform leverages the power of incentives and accountability; its creators (Yale researchers) say it more than triples your chances of success.
Pact
This app pays you when you meet your goals. Fair warning: If you don't, your money goes to other users who hit theirs.
Be self-aware about your reward system—e.g., "Watch the revolving door effect if food becomes a reward for exercise," says Beth Blackett, peer health outreach coordinator at Queen's University, Ontario.
How you work it
"Listen to an audio book, but only while exercising. Hearing how a story ends is motivating to exercise."
—Chris P., undergraduate, University of Kansas
"The hardest thing to do for me is to work out in the morning. So I would make a rule that if I don't get out of bed to work out, then I only get to drink water the entire day. Yes, no coffee. :("
—Undergraduate, name & college withheld
"As humans we love a good prize, so motivate yourself to be active by setting up an award for yourself afterwards, like getting your nails done or watching a movie."
—Maggie K., undergraduate, Concordia College, Minnesota
#4 Get with your fit friends
"If our friends work out regularly and support our exercise goals we are more likely to exercise," says Dr. Xiaomeng Xu, professor of psychology at Idaho State University. Working out in a pair, team, or group introduces cues to action, accountability, and reward.
Make a plan with a friend: Imagine the awkward if you don't show up.
"Just the other day I didn't want to go run but I had told my friend that I would run with him. Once I made that commitment I knew that I was going to do it no matter what. I hate backing out."
—Camden S., undergraduate, Midwestern State University, Texas
"It's a lot easier to get off the couch if you know your friends are waiting for you to go on a hike with them!"
—Kelly W., undergraduate, University of Dallas, Texas
Find your people: It helps when your crowd includes some active types.
Watch other people being active: if not in real life, on TV or online. In our survey, students said they were motivated by images on Instagram, Twitter, and Pinterest.
"I watch videos on YouTube or read some inspirational quotes. I also follow people who are into fitness so when I see their posts you are motivated."
—Kayla M., undergraduate, University of Windsor, Ontario
Why & how the buddy system works
"In a 2013 study involving 480 college students, "having an exercise partner" and "having a friend who exercises" were rated among the top motivators for physical activity (along with wanting to look physically fit), according to the Archives of Exercise in Health and Disease.
How you work it
"I committed to a softball team. I cannot let others down."
—Elizabeth D., undergraduate, Empire State College, New York
"I look on Instagram and see all my friends posting about working out."
—Michelle F., undergraduate, University of Alaska Anchorage
"I watch 'People Are Awesome' videos on YouTube of all the great things people do around the world, usually related to sports and adventure. I get really energetic and excited to get up and try new things."
—Rajeev I., undergraduate, Drexel University, Pennsylvania
"Texting someone about how you're doubting going to the gym; you invite him or her, and if they say yes, then you have to go. A gym buddy helps."
—Josie R., undergraduate, California State University, Fresno
"I was on the couch and I was looking at Twitter, and some of the people that I follow are all about fitness motivation. Just reading them made me motivated to get off the couch."
—Kendra S., undergraduate, Concordia College, Minnesota
More ways to make it social
Team up
Join an intramural team—maybe dodgeball, softball, or bowling.
Shake it out
Find a dance class: hip hop, Zumba®, jazz, break danciong, Bollywood. You know it will be a riot.
Get in character
To act out your favorite characters, try Live Active Role Playing (LARPing)
LARP
Conquer life's obstacles
Does belly crawling through mud sound like your idea of a good time? No? All the more reason to try it. The beginner's version, a Spartan Sprint, is about three miles long and has more than 20 obstacles (think fire pits and barbed wire). By the end of the course, your new muddy look will be all over Instagram.
Spartan Race®
Walk it out
Walk with a group or on your own. Pass the time by downloading your favorite podcast or audiobook or chatting with a friend.
More than 64 percent of college students engage in moderate cardiovascular or aerobic exercise for at least 30 minutes on two or more days a week.
—American College Health Association – National College Health Assessment; September 2014
---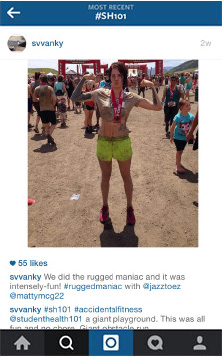 Your best Instagram
"It was basically a giant playground with extra mud. It was easy not to think about it as a workout because there were monkey bars, giant slides, and huge mud baths that just remind you of being a kid!"
—Shaney Swank, Metropolitan State University of Denver
Follow us on Instagram, and don't forget to use the hashtag #AccidentalFitness
Article sources
Kenneth Clark, certified personal trainer and small group instructor, Washington, DC.
Beth Blackett, MA, peer health outreach coordinator, Queen's University, Ontario.
Michelle Segar, PhD, MHP, director, Sport, Health, and Activity Research and Policy Center, University of Michigan; author, No Sweat: How the Simple Science of Motivation Can Bring You a Lifetime of Fitness (Amacom, 2015).
Xiaomeng Xu, PhD, professor of psychology, Idaho State University.
Fred Zimmerman, PhD, professor, Department of Health Policy and Management, University of California Los Angeles.
Anxiety and Depression Association of America. (n.d.). Exercise for stress and anxiety. Retrieved from https://www.adaa.org/living-with-anxiety/managing-anxiety/exercise-stress-and-anxiety
Centers for Disease Control and Prevention. (2015, May 19). Adolescent and school health: Physical activity facts. Retrieved from https://www.cdc.gov/healthyyouth/physicalactivity/facts.htm
Centola, D. (2013). Social media and the science of health behavior. Circulation, 127(21), 2135–2144. Retrieved from https://circ.ahajournals.org/content/127/21/2135.full.pdf+html
Darlow, S. D., & Xu, X. (2011). The influence of close others' exercise habits and perceived social support on exercise. Psychology of Sport and Exercise, 12(5), 575–578.
Harvard Health Publications. (2013, May). Regular exercise releases brain chemicals key for memory, concentration, and mental sharpness. Harvard Men's Health Watch. Retrieved from https://www.health.harvard.edu/press_releases/regular-exercise-releases-brain-chemicals-key-for-memory-concentration-and-mental-sharpness
King, K. A., Vidourek, R. A., English, L., & Merianos, A.L. (2014). Vigorous physical activity among college students: Using the health belief model to assess involvement and social support. Archives of Exercise Health and Disease, 4(2), 267–279.
Michellesegar.com. (n.d.). Sustainable behavior change for organizations, professionals, and app developers. Retrieved from https://michellesegar.com/organizations/
Student Health 101 survey, July 2015.
Zimmerman, F. J. (2009). Using behavioral economics to promote physical activity. Preventive Medicine, 49(4), 289–291.